Even voorstellen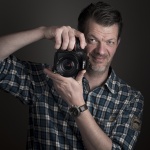 De essentie van een moment vastleggen is een uitdaging die graag aanga met de natuur. Spelend met beweging, licht en onscherpte bij een grote variatie aan onderwerpen. Vaak niet wetend waar een fotosessie toe gaat leiden. Een favoriete aanpak is om naar een gebied of plek te gaan en de natuur op me in te laten werken. Vanuit mijn gevoel ontstaat een creatief proces wat beelden oplevert die ik me vooraf niet had kunnen voorstellen. De creaties die op die manier zijn ontstaan raken mij het meest en zijn mijn reden om door te gaan met fotografie.
Graag doe ik inspiratie op van andere fotografen maar kijk ook met een schuin oog naar de impressionisten en expressionisten in de schilderkunst. Qua compositie, kleurengebruik, technieken en stijlen kan ik nog veel opsteken van de schilderkunst. Die waardering heeft zijn weg gevonden in mijn manier van observeren en fotograferen in de natuur.
In de vorm van fotoclubs, lezingen, exposities, artikelen en natuurlijk via deze website, deel ik mijn foto's en ervaringen graag met anderen. Het is toch mooi om iemand anders ook zo enthousiast te krijgen voor de natuur om ons heen.
Jowan Iven
Introduction
Catching the essence of a moment, that's what I'd like to do when I'm in nature. Playing with light, movements or unsharpness, not exactly knowing where the session leads to. I enjoy to go out and work with the possibilities that pop up while I'm outside in the open air. Creating my own bubble, freeing my mind and going with the flow, that's when the creative juices can start to flow. The creations that arise from those moments are the reason to continue with nature photography .
Not only do other photographers inspire me, also impressionism / Expressionism painters and other creative minds are a great source of inspiration. I feel that there is still a great deal to learn from them.
On the other hand, I like to share my experiences through lectures, expositions, articles and this website. Its so rewarding to inspire others for the natural world around us.
This site is mainly written in Dutch. However, in good time, the site will become bilingual.
Enjoy your stay on my website.
Jowan Iven
Awards
2018 Groene Camera
2017 Lowland Photo Contest
2016 Nature Talks photo contest
2015 Lowland Photo Contest
2013 ROOTS anual competition
Highly commended
Highly commended
Portfolio Honourable mention
Category winner
2nd place